It's not exactly a secret that retailers of all sizes have been affected by the explosive growth of e-commerce, especially chain retail stores, with onetime anchor stores dragging down surrounding businesses.
This has led many small businesses to turn to retail strip malls found throughout urban and suburban areas, and real estate investors are taking notice of these opportunities.
The traditional retail strip mall can be an excellent investment as part of a diversified portfolio, so long as you know what to look for, and are willing to invest in improving the property. If you take the time to do the necessary footwork to learn more about the strip mall you're investing into and the surrounding market, you can take even a struggling location and make it into a great success.
Strip malls can provide steady income over many years, and choosing a diverse set of service-oriented businesses can mitigate risk exposure.
One of the key advantages to strip malls is the relative reliability of tenants, compared to residential tenants., often signing multi-year leases that allow you to better guarantee the profitability of your investment.
There's plenty of evidence out there to suggest that strip malls are going to become even more desirable retail spaces in the short- to mid-term. With larger malls closing or reimagining themselves as destinations providing luxurious shopping experiences, smaller businesses that would struggle to compete in a mall are finding the visibility and potential traffic offered by a well-positioned strip mall to be very lucrative.
Internet-resistant retailers which offer specific services and products that people want and are willing to travel for are increasingly looking to take up residence in strip malls. Among these businesses are branded smartphone shops, family entertainment centers, and quick-service restaurants. But even more specialized services are turning to strip malls in order to reach customers with greater ease.
Healthcare providers have been making moves to enter suburban and urban markets, de-emphasing larger, centralized facilities in favor of medical office buildings and urgent care centers. Strip malls are potential venues for healthcare providers to reach out to communities in need of outpatient services. This smaller scale approach has been used to provide urgent care, physical therapy, dental care, and even more specialized and technical services like MRI facilities.
Whether it's food service or healthcare, a well-positioned strip mall gives these businesses nearly unmatched access to local residents. And that means that these properties can potentially start turning a profit much sooner from tenants that will be reliable in the long-term.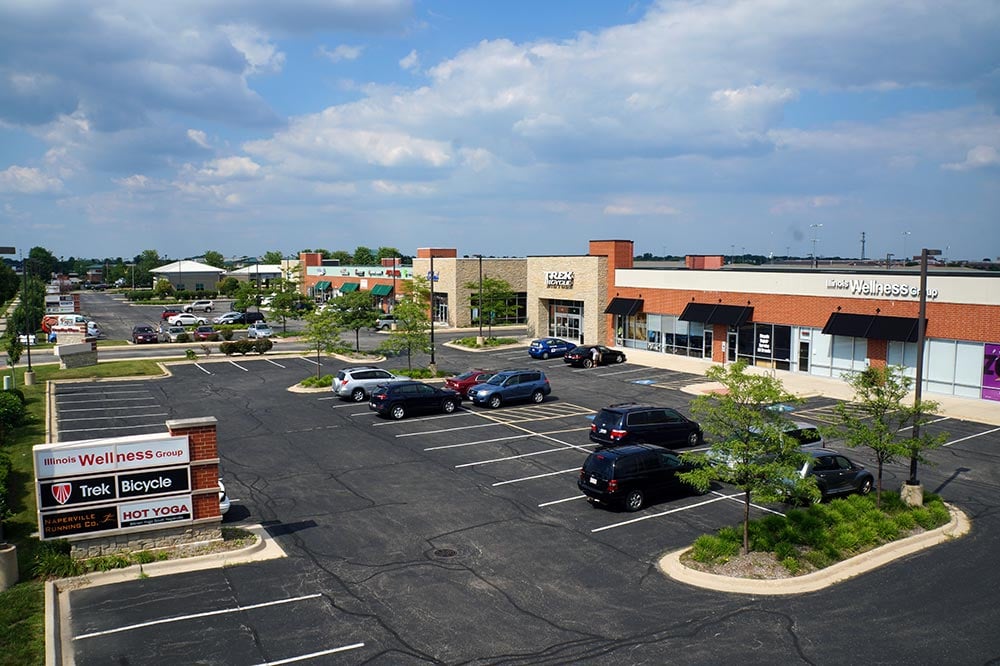 Location is still one of the most important aspects of any retail strip mall.
Having the right businesses in the strip mall only part of what drives their success. You'll want to look at the local demographics for the surrounding area to ensure that there's a market to support it. The most successful locations tend to have a lot of foot or vehicle traffic on adjacent streets or intersections.
Many experts agree that an urban-suburban population of 50,000 people or more is a key factor in supporting a successful strip mall. You'll also want to ensure it's in a safe neighborhood, with low unemployment and a high median income.
Accessibility is also critical for a strip mall's success. You can be planted firmly in the middle of a great neighborhood, but things like limited parking space can turn people away from visiting a store or restaurant, and some businesses might look for space elsewhere. A good example of how this can affect a strip mall is with restaurants. A popular cafe might dominate the parking lot during certain parts of the day, starving neighboring businesses of visitors while the lot is near or at capacity.
Older strip malls might have maintenance issues or need upgrades, but even these locations can be worthy investments.
Many investors focus in existing locations when considering investment opportunities. Of course, the older a building is, the more likely it is that you'll need to hire a contractor to make some fixes. Roofing, electrical wiring, or HVAC systems may need upgrades. In many cases, it is necessary to invest in improving the aesthetics of the property in order to appeal to the discerning tastes of potential tenants and shoppers alike. Just as with the maxim that you should dress for the job you want, a strip mall must be designed to appeal to the customer base you want.
Older locations might not seem like the best bets at a glance, but putting the money into revitalizing a shopping center does offer positive results. Even an old strip mall can be repositioned to attract businesses and customers.
This proactive mindset can benefit even already upscale locations and brand-new buildings. A more hands-on approach can help you respond to new market trends, or simply stay on top of issues that might scare away tenants.
A strip mall that provides the array of services that the local customer base wants in a single convenient location will outperform those that fail to cater to this base.
The ability to get multiple errands done in a single trip, saving tens of minutes, or even hours on the road, is why massive shopping malls were such dominant retail destinations in the past. It's also something that defines successful strip malls today, even if the needs of shoppers have changed.
Today, many successful strip malls are anchored by supermarkets. Other property owners have looked towards high-end movie theaters filled with amenities, and even fitness centers to act as anchors. These businesses are hubs that actively attract people , whether it's to run errands, do self-care, or be entertained.
Secondary businesses that lease adjacent and nearby units can benefit from the traffic provided by a solid anchor. Service-oriented businesses that fill out the surrounding spaces enhance the overall convenience that the strip mall offers.
Someone who's visiting a Bel Air grocery store may opt to get their hair cut at neighboring hair salon. Their kids might enjoy a meal at the Round Table Pizza. Maybe they need to buy new glasses from LensCrafters. Or they just realized that they lost their cellphone charger, and the strip mall's Verizon outlet will have a replacement. Put simply, having a diverse set of businesses that complement one another will make strip malls far more attractive and likely to succeed in the long-term.
Researching what kinds of stores have historically suffered in the area in order to filter out potential tenants who might be a poor fit for the location.
If you're investing into a troubled location, it is probably a good idea to learn about what businesses failed to work out, and why. Were they redundant when compared with other businesses in the area? Were the services something that local residents wanted? Or was it an issue of customer service, not a lack of interest, that drove a tenant out of the strip mall?
To get answers, ask around. Ask existing tenants what businesses have tended to thrive, which may be entering a slump, and what led to the failure of those that no longer exist. If you have trouble finding information on failed tenants, the Google Maps Street View feature has a hidden trick that can help you see how a space has changed over time.
For instance, here's the tenant sign for a shopping center in Fairfield, CA as it appeared in March 2019: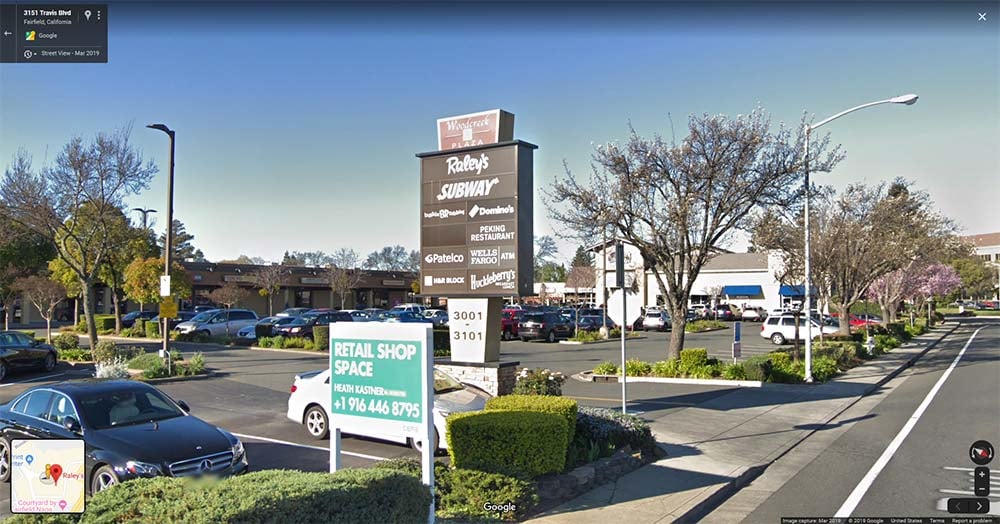 If you look in the top left corner of the Google Maps screen, you'll see the month and year on which Google Maps archived the photo, and a dropdown arrow next to it. Click the arrow, and it will reveal a photo thumbnail with a date selector below it.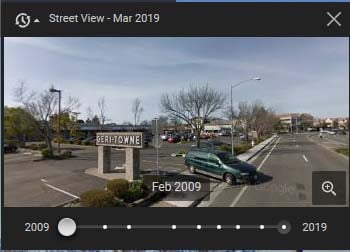 Move the toggle to the desired date and then click on the image above it, and Google Maps will display the Street View imagery that was collected on that date. For instance, we can look at the sign for the shopping center as it appeared eight years prior, in June 2011.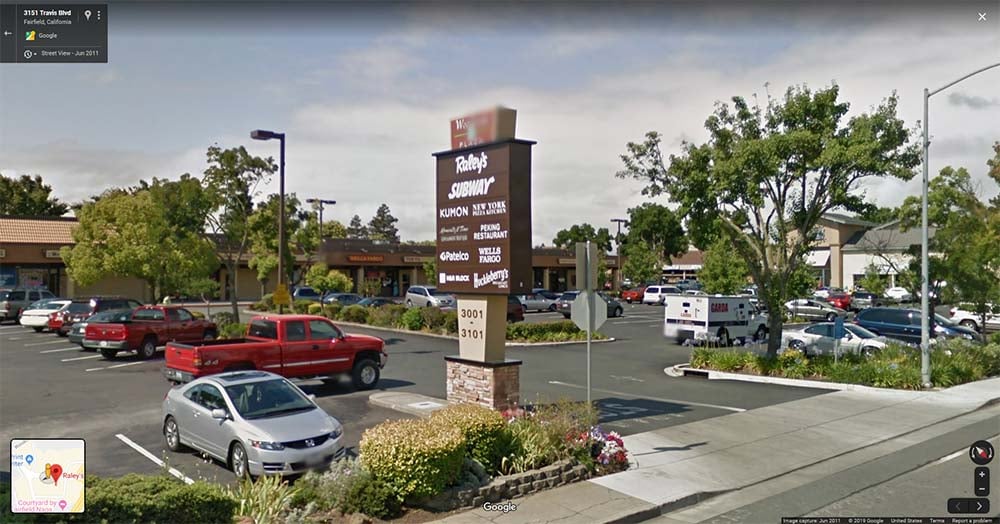 Even without trying to zoom in and squint at storefront signs, we can quickly glean the tenants that have disappeared in the intervening 8 years. While the Raley's anchor store and Subway sandwich shop are still in place, a Kumon tutoring center, off-brand "consignment boutique," and New York Pizza Kitchen restaurant have all closed down. Apparently, there was still customer demand for pizza, as the Pizza Kitchen has been replaced by a Domino's, and along with it a Baskin-Robbins.
By understanding the history of a retail center, you can better understand what types of businesses you want to retain, and what additional tenant types and property improvements a strip mall needs to succeed. Implementing attractive improvements and having a plan for success will attract the businesses you want, and let you be more discerning with tenants.
Physical retail spaces are changing thanks to e-commerce. Some retailers will succumb to the conveniences of online shopping, while other service-oriented businesses will enjoy continued relevance. While the age of large malls as we once knew them may be vanishing, strip malls are able to provide the goods and services people are looking for closer to home. If you invest in the right location, attract the right businesses, and are responsive to issues with the property as they arise, a strip mall can be a successful and consistently profitable addition to your commercial real estate portfolio.