Townhouses represent a rising share of the real estate market in some areas of the country. This is likely the result of their attractiveness as a middle ground between single-family homes and apartments for first-time homebuyers and empty nesters. For those living in cities, townhouses offer an appealing blend of affordability and privacy.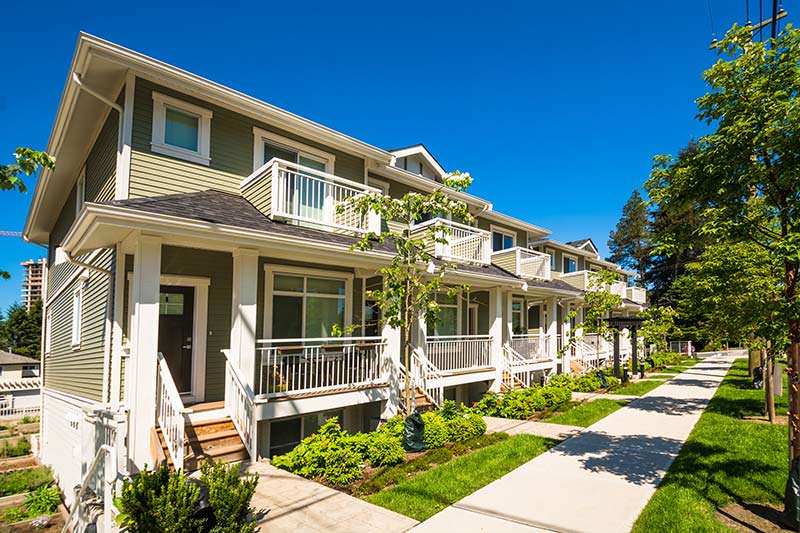 Townhouse styles vary by region. Rows of townhomes are a common sight in cities, but suburban townhouses are often free-standing. Townhouses differ from condos mainly in their floor plan. Most condos have all of the living space consolidated on a single floor, but townhouses usually encompass multiple floors. In addition, townhouses generally have a unique front and back entrance, a garage and a private lawn. Whereas condo dwellers typically own only the individual unit, townhome dwellers also own the land around the unit.
Because of their smaller footprint, townhome communities can be located near city centers. Single-family homes are often pushed out into the suburbs, resulting in long commutes for home owners. Due to shared walls, townhouses are also often more energy-efficient than single-family homes.
A major selling point of townhouses is ease of maintenance. Chores such as lawn care, landscaping, snow removal, exterior upkeep and roofing are usually the responsibility of the Home Owners Association (HOA). Another appeal of townhouses is shared amenities. Perks such as pools, clubhouses, security systems, media rooms, tennis courts and playgrounds are standard features in many new townhome communities. Residents enjoy the benefit of these amenities without much of the expense or hassle. In addition, HOA by-laws governing yard maintenance, noise and other behaviors ensure a pleasant environment for all residents. Home owners who have ever dealt with noisy neighbors who blast loud music at all hours can appreciate the convenience of having a HOA to enforce the rules.
In most regards, the steps involved in marketing a townhouse are identical to those for selling a single-family home. In fact, comparable sales data may be more readily available for townhouses, making the process even easier. Since all the townhouses in a community are generally similar, comparable sales data usually accurately reflects the property's fair market value.
Just as with single-family homes, a potential buyer will evaluate the neighborhood as well as the individual property. Townhomes may have an advantage over single-family homes in that HOA maintenance rules help ensure that all properties are in uniformly good shape. In contrast, single-family home owners have minimal recourse if neighbors aren't keeping up their homes.
The best way for a townhouse owner to ensure that the neighborhood maintains its curb appeal is to be active in the HOA. Attending board meetings or even serving on the board give property owners a voice and greater certainty that rules will be followed, properties will be well-maintained and the community will stay attractive for potential buyers.
The initial steps in preparing to list a townhouse are similar to those for a single-family home. Prior to listing, the townhouse should be cleared of all clutter so that it appears spacious and open to prospective buyers. The exterior should be inspected as well for any faded, peeling or damaged siding, doors or windows that need to be repaired. Touch-ups to exterior walls are unusually the responsibility of the HOA, but in some communities, minor exterior repairs must be done by the unit owner. Front and back yards are always the responsibility of the townhouse owner, who is obligated to keep grass mowed and landscaping neat and tidy. By removing dead shrubs and other debris from the yard, the seller can make these spaces appear larger to potential purchasers.
Realtors often specialize in a particular type of property so sellers should hire a realtor who has experience marketing townhouses. The HOA should be able to provide a list of realtors who have successfully sold other townhomes in that community. Steps prior to listing that are specific to townhouses include:
Checking with the HOA regarding their rules for selling townhouses. Many HOAs have restrictions on where "For Sale" signs can be placed on a property.
Visually inspecting nearby townhouses and contacting the HOA if adjacent buildings require maintenance or if neighbors need a reminder to clean up yards.
Working with the realtor to compile a list of the development's amenities. Desirable perks such as nearby walking trails, swimming pools and fitness centers should be highlighted in the property listing description.
Obtaining a copy of the property's yearly maintenance schedule and annual fees from the HOA. Providing an itemized fee breakdown will help your realtor explain the property's annual costs to prospective buyers. You should also furnish your realtor with information regarding annual HOA dues, including which services (i.e. trash pick-up, snow removal, etc.) are covered by the dues.
Providing copies of HOA documents to prospective buyers in a timely manner. Laws governing townhouse sales stipulate that buyers must be given copies of HOA documents within a few days after an offer is made. In California, HOA documents must be made available within 10 days of receiving a written request. As a preparatory measure, some townhome owners request HOA documents on an annual basis. Meeting the delivery deadline for HOA documents is essential since purchase offers are usually contingent on the buyer accepting the HOA rules and regulations. By missing the deadline, the seller gives the buyer a legal defense for revoking the offer.
Another caveat for townhouse marketers is that the potential pool of buyers for a townhouse may be smaller due to federal lending rules that penalize communities for having too many renters. Many first-time buyers like FHA loans because of lower down payments and credit score requirements. However, for the mortgage to be approved, FHA rules require that at least half of the units in a townhome community be owner-occupied. Prospective buyers can circumvent this restriction by borrowing from a smaller bank that keeps its mortgages in-house rather than reselling its loans to Fannie Mae and Freddie Mac.