American commercial and residential real estate has been an increasingly popular investment vehicle for foreign investors. While only recently Canada was the source of most foreign investment, in the last couple of years China has overtaken our northern neighbor to become the single largest foreign real estate investor.
In 2016, Chinese real estate investments totaled $33 billion. The United States was by far the most popular target for China, with Hong Kong running in second with a relatively small $14 billion. Between 2010 and 2015, China invested $350 billion in American real estate, with $93 billion of that going into single and multi-family residences.
In this article we will examine why foreign investment in American real estate is surging—particularly with China-based investors—and the markets that they are targeting. If you like, you can read through this from start to finish, or use the shortcuts below to jump to a section of your choosing.
Why is China in particular investing so heavily in foreign real estate?
As with investors anywhere, Chinese investors are driven to diversify their portfolios. Simply investing solely in their own country's markets could prove disastrous, especially given the slowly eroding value of the Chinese renminbi versus the dollar.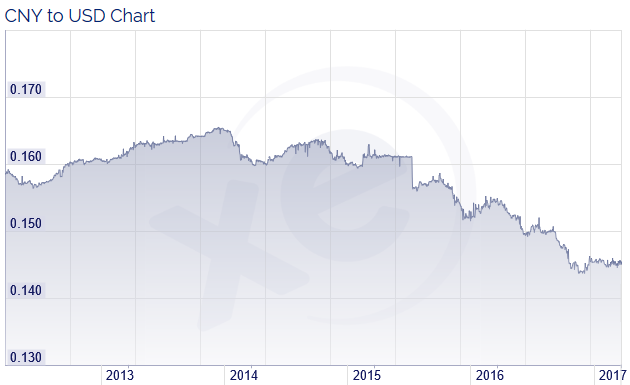 Chinese nationals looking for overseas opportunities have found limited options. Volatility in Europe in the wake of Brexit and increased nationalism has made European investment a somewhat riskier proposition than it once was. Meanwhile, the United States is expected to experience further growth in its economy, and interest rates are incredibly low.
Despite the occasional political push against foreign investments, there's a very practical motive for Chinese investors to purchase American homes—these homes provide a potential exit strategy for loved ones and friends in a country known for its unpredictable political and economic policies.
Regardless of the motivation for individual investors, and in spite of the government's recent efforts to prevent money from leaving China, it's likely that China will continue to be a heavy hitter in the U.S. real estate market for years to come. In fact, a study conducted by the Rosen Consulting Group and the Asia Society estimates that Chinese investment in U.S. real estate could top $50 billion by 2025.
Foreign investment isn't just going into commercial real estate, or even luxury homes.
The idea of foreign real estate investment likely brings to mind wealthy financiers buying up luxury penthouses, and while there may be some truth to that, investor interest is increasingly focused on middle-class single and multi-family homes.
Between April 2015 and March 2016, foreign investors purchased 214,885 homes in the U.S., with a total value of $102.6 billion. That averages out to $477,465 per property. While this sounds pricey for many regions of the United States, 42% of the homes were purchased in Florida and California, both of which are renowned for their extremely high home prices.
Last year, the Washington Post reported that Chinese buyers have been increasingly targeting middle class markets. In the article, a property broker in New York estimated that the number of Chinese buyers picking off properties in Brooklyn and Queens has doubled in the last five years.
As the U.S. market becomes increasingly impacted and once popular alternatives such as Hong Kong and Ontario pass taxes targeting foreign homebuyers, Chinese interest in all levels of real estate will likely only increase.
A great deal of foreign investment is motivated by a desire to immigrate to the United States, or to provide financial support to dependent students attending schools in the United States.
Parents all over the world choose to send their children overseas to the United States to secure a first-class college education. But, some of these parents—particularly those in China—occasionally run into a serious complication: it can be very difficult to send money to their children in the US. There is also the natural risk that comes with sending cash to a young person who hasn't necessarily developed the financial management skills needed to budget appropriately.
However, there is a solution to both of these problems that foreign investors have been taking advantage of for decades: property investment. Typically, these parents purchase American commercial and residential real estate in areas close to where their children live and go to school, and lease the properties out. Some or all of this rent money is send directly to the investor's student, providing the student with a dependable monthly stipend.
This approach solves a number of challenging problems in one go:
Countries such as China that restrict sending currency outside the country typically grant some leeway when it comes to buying foreign real estate.
Rather than struggling to send money multiple times a year for several years, the number of international financial transactions is minimized.
There's no need to risk sending a lump sum to a young student, only to have them spend it unwisely.
If it's necessary to provide the student with a place to live near their college or university, an investor who purchases a home or multifamily unit can choose to let their child live there rent-free.
There's no need for foreign real estate investors to obtain American citizenship or a green card. But you will need to apply for an Individual Taxpayer Identification Number (ITIN). To do so, fill out a Form W-7, Application for IRS Individual Taxpayer Identification Number. Depending on your circumstances, it may also be wise to hire a real estate attorney experienced in handling US real estate purchases by foreign investors.
Investment in American commercial enterprises also offers foreign parents the opportunity to immigrate via EB-5. It's not unusual for parents of students in the US to unexpectedly discover a desire to move to the United States and embrace the country's distinctive culture. For those with the investment capital, the United States' EB-5 Immigrant Investor Program offers the opportunity to do just that.
Back in 1990, the US Congress sought to combat a stagnant economy by creating the EB-5 Program, which provided an incentive for foreign entrepreneurs to invest in the American economy. Under the program, if a foreign investor invests $1 million in a new commercial enterprise that will provide at least 10 permanent full-time jobs, the investor is eligible to apply for a green card, and can also secure green cards for their spouse and any unmarried children under the age of 21. The investment can be halved to $500,000 if the business is in a "Targeted Employment Area," which are typically geographic areas with high unemployment or in rural areas.
If you take advantage of the EB-5 program while your student is still early in their education—before they turn 21—you can grant your child the opportunity to pursue a career in the United States after they graduate, and bring your family over to the United States as well.
Even if you have no interest in living in the United States, the EB-5 program is a great way to secure a life in the United States for your children, who will likely have grown to love the country they've spent years studying and living in, and who perhaps hope to stay there after they graduate.
It's important to keep in mind that the EB-5 program isn't limited to the super-rich. In a New York Times article about Chinese participation in the EB-5 program, Daniel Chang, the head of the Asia desk at Sotheby's International Realty noted that EB-5 "is really for middle-class and upper-middle-class Chinese, and many are doing it for their children."
But, what markets in the United States are drawing the most attention from foreign investors? Here, we'll investigate the latest developments in five key western markets.
Los Angeles is currently the single most popular American city for foreign investment.
Foreign real estate investors are flocking to Los Angeles to take advantage of the region's favorable demographics, strong real estate fundamentals and revitalized downtown business district. According to a JLL report, Los Angeles supplanted New York in 2017 as the top US city for foreign investors, based on more than $23 billion invested by foreign nationals in LA real estate. From fifth in the world rankings just four years ago, Los Angeles has vaulted to second place behind London, beating out international capitals like Paris and Tokyo as a top destination for foreign investors.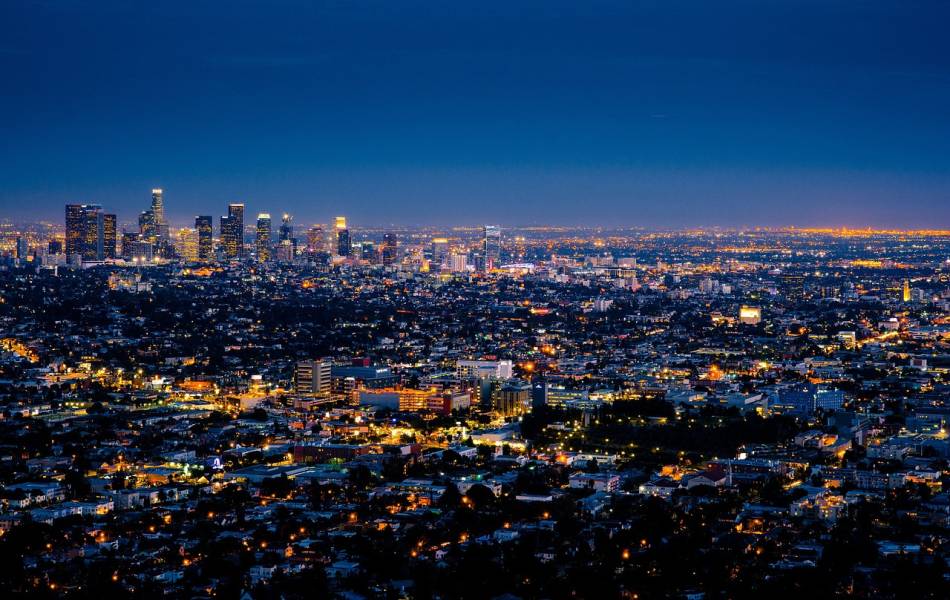 The Los Angeles metro region boasts more than 13 million residents and household incomes averaging $65,950. As noted in this Crain's LA story, Los Angeles was the third most popular destination last year for Americans relocating for work opportunities.
Also attractive to foreign investors are LA commercial rents that still have room to run due to the city being late to the market recovery. In addition, LA real estate is still reasonably priced when compared to property values in foreign capitals like London and Tokyo.
As reported in The Real Deal, an LA-based real estate newsletter, the top foreign investor in LA last year was Singapore, with more than $2.26 billion invested. Singapore firms own large stakes in the Lakewood Center mall and the Los Cerritos Center.
Second was Qatar, which recently purchased nearly $2.1 billion worth of Blackstone office properties in LA and Santa Monica.
Canadian firms ranked third, based on $1.6 billion invested and more than two dozen purchases in the LA market over the past two years.
France was in fourth place, with LA investments totaling $519 million. The largest single purchase was by AXA Real Estate, which acquired a 49% stake in the Peoples Bank Building on Wilshire Blvd for an undisclosed sum.
South Korea ranked fifth, based on $472.1 million invested in three properties that form part of the Runway Playa Vista development on West Millennium Drive.
The types of real estate most preferred by foreign nationals were 1) office, 2) warehouse and 3) residential. Also popular were industrial and distribution assets, reflecting the Port of LA's status as a major destination for Asian imports and exports.
Mainland China firms have also begun stepping up investments in downtown LA. As reported in the Wall Street Journal, Chinese developer Greenland Holding Group is funding the construction of Metropolis, a residential complex in the South Park neighborhood. The project consists of four towers and over 1,500 condos and is scheduled for completion in 2019.
Another Chinese developer, Oceanwide Holdings, has invested over $1 billion in nearby Oceanwide Plaza, a three-tower, 504-unit condo complex expected to open in 2019.
Recently completed downtown projects noted in the Downtown LA News include the $1.2 billion Wilshire Grand Center. This 1,100-foot skyscraper, located in the Financial District, is the tallest building west of the Mississippi. Downtown LA also benefited from the opening of several new hotels and approximately a dozen new housing developments last year.
Over the next 12 months, at least three new hotels and hundreds of housing units are expected to open. The new hotels include the Hotel Figuero (268 rooms), Hotel NoMad (241rooms), located in the Financial District, and Hotel Proper (148 rooms), which serves the South Park neighborhood.
A wealth of new construction projects in LA are slated for completion this year, with many more making significant progress.
Major office, mixed-use and residential properties that could open this year include:
At Mateo, a mixed-use complex in the Arts District that offers 50,000 square feet of office space, 130,000 feet of retail space and a 540-space parking garage.
Circa, a $500 million 35-story twin-tower complex located across from the Convention Center. Circa provides 48,000 square feet of retail space and 548 residential units that consist mainly of one- and two-bedroom apartments.
Factory Building, the conversion of a former Ford Factory into 254,000 square feet of office space. Warner Music Group has signed a 13-year lease on the space.
La Plaza Cultura Village, a mixed-use property that encompasses 43,000 square feet of retail and commercial space and 355 apartments. Trammel Crow is partnered with LA County on this project.
The Aliso, a 472-unit apartment complex that brings much needed residential space to the Arts District.
Trust Building, a historic landmark that has been restored to its former glory and now offers 320,000 square feet of prime office space.
In addition, several significant development projects may move forward during 2018, including:
6AM is a mixed-use complex consisting of 1,700+ apartments and/or condos, 500,000 square feet of office and hotel space, 64,000 square feet of retail, and 36,000 square feet for miscellaneous uses. The project is valued at $2 billion.
Broadway Trade Center is one of the largest downtown renovation projects ever. This project will feature 1.1 million square feet of mixed-use space.
Merritt Building restores a historic downtown property to its former splendor and provides 50,000 square feet of office and retail space.
The Grand is a $950 million complex located across from the Walt Disney Concert Hall. The development will feature a 450-unit residential tower, a 305-room hotel, and a restaurant and retail space. Chinese firm CORE has invested $290 million in the project, which could break ground this year.
The Reef brings more than 1,400 apartments and/or condos, a hotel, and 120,000 feet of retail space to a LA neighborhood that has so far seen little development. The project's owners are working with commercial real estate investor CBRE to secure an international financing partner for the project.
In addition to office, retail and apartment/condos, foreign buyers are also snapping up single-family homes. As noted in Housing Wire and a National Association of Realtors (NRA) annual survey, nearly half of all US home purchases by foreign buyers last year occurred in just three states: Florida, California and Texas. Investments in single-family homes by foreigners and recent immigrants rose 49% last year and totaled 284,455 homes. The median sales price paid by foreigners for an American home was $302,290 and approximately 10% of foreign buyers paid more than $1 million for a property. Approximately 44% of home purchases by foreigners were all-cash transactions.
The NRA expects cross-border investing to accelerate over the next few years as foreigners take advantage of a weakened dollar to seek higher returns abroad. This suggests that foreign investment will likely continue to positively impact demand and property values in the metro LA market, creating more opportunities for local developers and fix-and-flip investors.
San Francisco's growing tech industry has made it a prime target for foreign investors.
The Bay Area remains in the midst of a high-tech boom that is creating significant amounts of new wealth, and encouraging massive foreign real estate investment. Dozens of large-scale mixed-use projects are underway in neighborhoods around San Francisco, including a $500 million, 70-story skyscraper at 181 Fremont.
The ripple effect of tech investment is also driving growth outside the city, where the prosperity of Silicon Valley is shaping the region. Large tech companies are bringing hundreds of affluent Millennials to Silicon Valley, and many want to become homeowners.
Ranked by payroll growth, the Bay Area is the fastest-growing metro area in the US, according to data from UCLA. Trends in Silicon Valley research and development spending further signal the strength of the tech sector. R&D spending in Silicon Valley is rising faster than in Seattle, Austin and other tech hubs, according to the Silicon Valley Competitiveness and Innovation Project.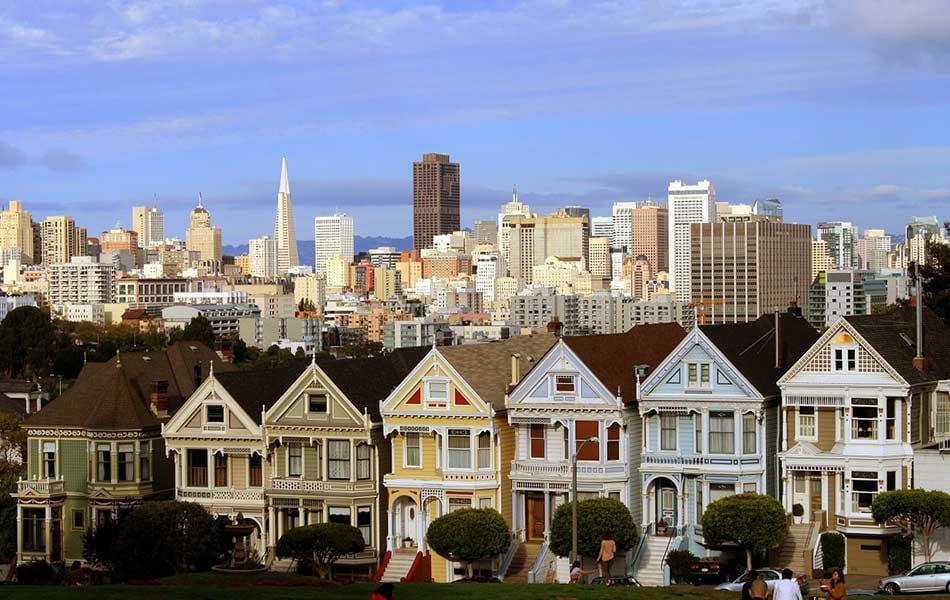 Chinese investors have been key investors in the San Francisco real estate market.
While tech drives the local economy, overseas investors are becoming a greater factor in Bay Area real estate. San Francisco ranked 6th in the nation last year for foreign investment, with foreigners investing approximately $1.5 billion in Bay Area real estate. Europe accounted for $629 million of this spending, and Asia represented $504 million of investment.
Recent data suggests that foreign spending on Bay area real estate could increase this year. A 2017 survey of overseas investors by the Association of Foreign Investors in Real Estate (AFIRE) showed 95% of respondents plan to increase or maintain their current level of U.S. investment. Foreigners ranked San Francisco fifth overall among top global real estate markets.
The increasing role of overseas investors is evidenced by growth in all-cash transactions, which are often used as a proxy for foreign purchases. Ten years ago, approximately 10% of California single-family homes were purchased in all-cash transactions, according to ATTOM Data Solutions. Since then, this percentage has more than doubled to nearly 25%.
Investors from China have topped the list of overseas buyers of U.S. real estate four years in a row. Chinese nationals spent $31.7 billion on American real estate last year, and California was a top destination, accounting for nearly 40% of all home purchases made by Chinese real estate investors.
Some of the spending by Chinese buyers is for primary residences, but many also consider U.S. real estate an attractive investment opportunity. According to a National Realtors survey, 40% of Chinese buyers use their American home as a primary residence, while 60% purchase these properties as an investment, vacation property, or for student housing.
Much of the major development in San Francisco has been driven by EB-5 financing.
In downtown San Francisco, developments funded by Chinese firms are expected to bring over 1,000 luxury apartments and condos onto the market over the next five years. Much of the capital for these projects is flowing into the Bay Area via the EB-5 immigrant investor program, which allows major investors to earn a green card. Highlights include:
Brooklyn Basin. In nearby Oakland, Chinese investors have given renewed life to Brooklyn Basin, a massive development of 3,100 apartment units on a vacant industrial site. Developers recently broke ground on the first 250 units.
Treasure Island. In the middle of the Bay, a former Navy site will be the site of 8,000 new homes, 500 hotel rooms, 300 acres of parks, 140,000 square feet of retail and 100,000 square feet of office space. Treasure Island will be built over the next 20 years, and is expected to cost nearly $5 billion.
The project is being built in phases, with construction of the first new homes already underway. The first phase of the project will ultimately feature up to 2,100 new homes.
Shipyards New Home Community. Near the San Francisco Shipyards, 12,000 new homes and 5 million square feet of retail and office space are planned as part of a 750-acre project, which extends from the Bayview Hunters Point to Candlestick Park. This development has an $8 billion price tag.
Oceanwide Project. In downtown San Francisco, Chinese developer Oceanwide has broken ground on a two tower complex in the South of Market neighborhood. The first tower will rise 905 feet, making it San Francisco's second tallest building, and have 1.0 million feet of office space and 111 residential units. The second tower will contain the 169-room Waldorf Astoria San Francisco hotel and approximately 154 residential units. Completion is scheduled for 2021.
Lumina Towers. Vanke, China's second-largest property developer, is selling hundreds of luxury condos in Lumina towers. Also known as 201 Folsom Street, this 655-unit residential condo project is located in the Rincon Hill neighborhood. Tishman Speyer partnered with Vanke on the project. Construction began in 2013, and total costs are estimated at $650 million.
Landmark Tower. In Milpitas, part of the greater San Jose/San Francisco/Oakland Metropolitan area, Singpoli Capital Corp. is developing Landmark Tower. This project will feature two 22-story towers, 450 condos, and 34,000 square feet of office and retail space. Singpoli began in Hong Kong, but is now based in Los Angeles County. Chinese investment group Hongye International has provided Singpoli with $100 million of capital for Bay area development projects.
In addition to the above projects, Chinese real estate developer R&F Properties has been on a buying spree in the Bay Area, and has multiple condo projects under development in San Francisco, including 325 Fremont (118 units) and 119 Seventh Street (39 units). Another big Chinese buyer is Landsea Holdings, the U.S. subsidiary of one of China's largest home builders, which recently paid $186 million to acquire 24 acres in the Bay Area, where it plans to build 450 new townhomes.
Bay Area home prices have risen for six consecutive years, in large part due to a lack of new construction.
Selling prices for Bay Area residential properties have soared since 2012, topping out at $1.5 million last year for single-family homes. The median price for a condo ended the year at $1.2 million, according to Paragon Real Estate Group.
Sale prices for homes in the nine Bay Area counties have climbed six years in a row, with median prices in at least four of those counties now topping $1 million. In large part, Bay Area home prices are rising due to lack of inventory. New housing construction was essentially flat between 2016 and 2017, while the number of new households grew, according to Realtor data. Even with new construction underway, it will take years for the Bay Area to address the shortage of housing.
The lack of new construction has created opportunities for Bay Area house-flippers to stage a comeback, earning healthy profits from remodeling and re-selling older stock. House flippers may find further encouragement this year from the Trump Administration's plan to relax regulations on consumer lending.
San Diego has long trailed the Los Angeles and San Francisco markets in attracting foreign capital, but that is changing.
As mentioned in a Bisnow story, a number of favors are driving increased foreign interest in San Diego real estate:
San Diego's more affordable assets provide foreign investors with higher yields than can be found in Los Angeles or San Francisco. Foreign investors desiring high yields will turn their attention to secondary cities such as San Diego as major centers like New York and the Bay Area become pricier.
San Diego's border with Mexico creates a boon for local manufacturers, thanks to lower labor and shipping costs. In addition, San Diego's huge military presence has a powerful economic impact. The military presence supports a $9.2 billion contracting network, 5,600 businesses and 62,000 workers, according to the San Diego Regional Economic Development Corp. San Diego is the nation's second largest defense contracting powerhouse, bigger than either Texas or Los Angeles, and benefits from an excellent 2018 outlook for defense contractors, with 41% of defense firms planning to add workers.
Local biotech and life sciences sectors are thriving due to support from the University of California, San Diego, which brings foreign talent and capital to the area. 18% of UC San Diego students come from out-of-state or overseas, a much higher percentage than most American universities.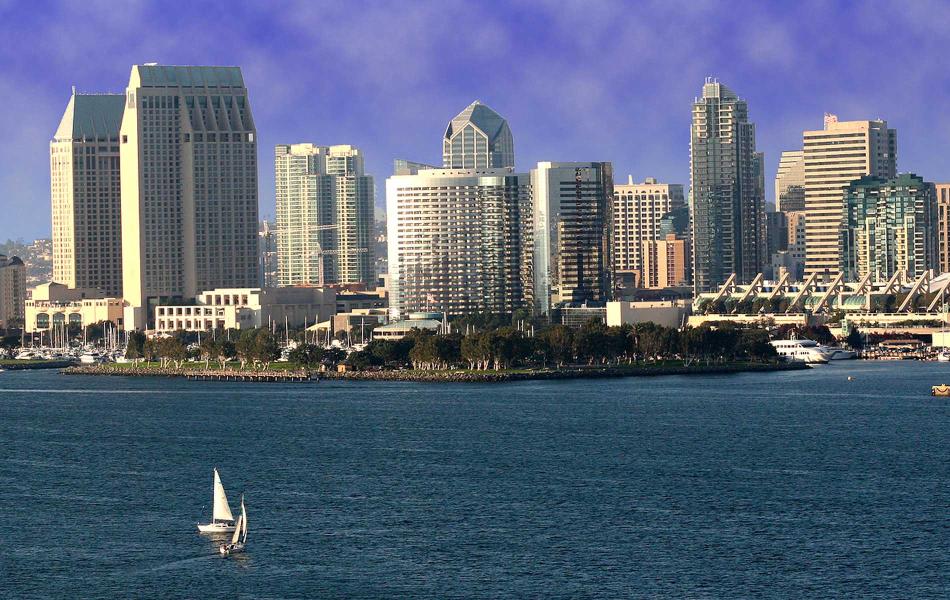 Interest in San Diego from Chinese investors has become so strong that local real estate firms are marketing directly to this audience through listings on Juwai, a Chinese language website with a readership of 2.6 million consumers per month. Another listing site targeting Chinese investors, San Diego-based Caimeiju, specializes in homes priced above $1 million.
The benefits of attracting Chinese investors are immense. The Chinese purchased roughly $32 billion of US real estate last year, more than any other nationality, and represented 20% of all property purchases by foreigners, according to a report by the National Association of Realtors.
Foreign investment in US real estate is expanding exponentially due to the increased wealth of emerging countries like China, changes in European and Canadian tax laws that make US real estate more attractive, the perception of the US as an investment safe haven, and US assets that remain more affordable than other world capitals. Overall foreign investment in US residential real estate was up 49% last year to a record-breaking $153 billion.
No state attracts more Chinese buyers than California, where nearly 40% of all real estate purchases are by foreigners, and San Diego was one of the top ten cities nationally in terms of Chinese investment.
In the past, San Diego commercial real estate development was too small to attract foreign capital, but that is changing, with numerous multi-billion-dollar projects underway:
Riverwalk. Property developer Hines has proposed a $2 billion plan to remake the Riverwalk Golf Club into a mixed-use development and river park area. In addition to the park, the current plan calls for 4,300 housing units and 1 million square feet of commercial and office space. The 200-acre property will have 120 acres of housing and retail and 80 acres of park, mostly along the San Diego River. Work is scheduled to commence in 2023. The river park will be part of the San Diego River Park Master Plan that creates a mostly continuous park along the San Diego River from East County to the beach. San Diego boasts a robust parks system with 6,200 acres of regional parks and beaches, 3,000 acres of community and neighborhood parks, and an additional 27,000 acres of preserved open space areas, not including the 6,000-acre La Jolla Underwater Park.
Chargers Stadium. San Diego State University has proposed a $1.0+ billion plan to redevelop the site of the former Chargers stadium. A rival proposal by SoccerCity is backed by a group that owns the rights to the San Diego Major League Soccer expansion team. Whichever group voters approve will negotiate to redevelop the 51-year-old stadium and 166 surrounding acres. San Diego State University envisions a 35,000 seat stadium and a 50-acre river park, along with housing and commercial space. SoccerCity wants to build a 23,500-seat soccer stadium, a 34-acre river park, 4,800 homes, commercial space and an off-site soccer academy.
Seaport San Diego. The $1.5 billion Seaport San Diego expansion is scheduled to break ground in 2021. This project will revamp an underused area into a mixed-use development consisting of hotels and office space, an aquarium and a 500-foot observation tower. The site, which includes the current 14-acre Seaport Village, sits on port land with a 66-year lease.
Trolley Expansion. A $2.1 billion trolley line expansion is underway that will extend service from downtown San Diego to the University City area. University City has developed as a major employment and residential area, considered San Diego's second downtown, but is not directly served by regional transit. The trolley line expansion is expected to attract 20,000 new riders a day to the system and ease traffic congestion on Interstates 5 and 805.
Manchester Pacific Gateway. This $1.3 billion redevelopment in downtown San Diego covers 12 acres and will include a 17-story office building to serve as the U.S. Navy headquarters, four office buildings, two hotels, a museum, a retail promenade and 1.9-acre park. The project will cover 3 million square feet over eight city blocks and is scheduled to begin in 2020. A joint venture led by Manchester Financial Group has engaged Berkadia Hotels and Hospitality to source a $650 million construction loan for the development. Manchester Financial Group has developed more than $2 billion of assets already, including the Manchester Grand Hyatt San Diego and the 1,360-room San Diego Marriott Marquis & Marina.
This robust demand from foreign investors has driven new residential construction as well.
Roughly 60% of home purchases by Chinese investors are for investment or vacation properties, and a strong housing pipeline should help keep their capital flowing. Single-family home construction in San Diego County made a strong comeback last year, with 3,979 permits issued, up 65% from a year earlier. On average, 2,600 new homes have been built each year since 2007, primarily in Otay Ranch, Del Sur, and East County.
In addition, 5,601 permits for new multi-family dwellings were issued last year and at least 2,000 new units will become available in 2018, mostly in downtown San Diego, according to Marcus & Millichap.
San Diego rent growth of 4.6% in 2017 was nearly twice the national average. Even with rising rents, San Diego remains a more affordable living alternative to Los Angeles or San Francisco, especially for young professionals. Occupancy rates recently stood at 96.5%, one of the highest rates in the US, and 3.5% rent growth is forecast this year
The San Diego City Council recently approved legislation that should create more housing for middle-income residents. Developers are allowed to build larger housing projects if they set aside some units for seniors and lower-income residents, and may double the size of projects consisting entirely of 600-800 square foot micro-units.
Las Vegas has seen revitalized interest from foreign investors as they get priced out of West Coast markets, as well as a surge in Chinese tourism.
The number of foreign visitors traveling to Las Vegas for its many entertainment options and amazing nightlife is on the rise—at present, foreign nationals account for 19% of Vegas' 39 million annual visitors. Local tourism authorities believe that could rise to 30% within the next few years.
And these visitors aren't just spending their money at the tables. Many of them are investing in prime Las Vegas real estate. The surge in foreign investment is in part due to a bump in Chinese tourism, thanks to the introduction of nonstop air service between Beijing and Las Vegas.
Chinese business travelers have been snapping up Vegas vacation homes and condos, attracted by prices that are bargains compared to similar properties in Shanghai and Beijing. The number of Chinese national who own homes in Las Vegas has doubled since 2013, to a total of 60,000 homeowners. Las Vegas' Chinatown neighborhood has had to expand in recent years to accommodate this growing population.
EB-5 funding has poured money into new development projects in Las Vegas, as has been the case in other markets.
As noted by the Las Vegas Review-Journal, this influx of Chinese visitors is bringing more EB-5 development funding to Las Vegas. The EB-5 program enables foreigners who invest $500,000 or more in US projects to apply for legal residency. According to the State Department, Chinese investors are the largest users of the EB-5 program.
The Lucky Dragon, an Asian-themed hotel/casino located near the Las Vegas Strip, was completed in 2016 after securing $60 million in EB-5 funding. The EB-5 program also helped launch the SLS Las Vegas on the north end of The Strip. Funding for this project included $115 million from Chinese investors.
Although China instituted a temporary measure last year restricting foreign direct investment, this measure has had minimal impact on Las Vegas EB-5 funding. In fact, the policy change caused Chinese investors to move funds to the US faster, fearing government restrictions may further tighten.
Las Vegas is actively courting foreign real estate investors for a variety of big projects, including a $1.9 billion sports stadium being constructed at the south end of The Strip. The new stadium will be the home of the relocated Oakland Raiders NFL franchise. Other professional sports teams are moving to Las Vegas as well, including an NHL expansion team (the Golden Knights), and a WNBA team (the Las Vegas Aces) recently acquired by MGM Resorts.
Work began on phase two of a $1.4 billion expansion of the Las Vegas Convention Center in 2018. During phase two, 1.4 million square feet of new space will be added for exhibitions and meetings. Phase three involves renovating 3.2 million square foot of existing convention space. City officials think the expanded facility will draw 600,000 more visitors to Las Vegas each year, and support an additional $2.1 billion in economic activity.
The North end of the Strip has several unfinished projects, but is currently experiencing a turnaround due to funding from foreign investors:
The Fontainebleau, an unfinished resort mothballed during the Recession, was recently acquired by developer Steve Witkoff, who has rechristened it the Drew Las Vegas. Witkoff is working with an international hotel operator to complete the 60-story structure. The Drew will have a casino, nearly 4,000 guest rooms, and 500,000 square feet of convention and meeting space. It is scheduled to open in 2020.
Next door to the Drew, former NBA player Jackie Robinson plans to build a hotel and entertainment complex, the All Net Resort and Arena, consisting of a 22,000 seat stadium with a retractable roof and a 63-story hotel with 2,000 rooms, restaurants, convention space and a bowling alley. Construction costs are estimated at $2.7 billion. Swiss banking giant Credit Suisse is the lead lender on this project.
Another construction project is the Resorts World Las Vegas, a resort and casino that will feature 6,583 guest rooms, 175,000 square foot casino, 4,000-seat theatre, restaurants and retail space, and an indoor water park. Malaysia-based Genting Group is developing this $7.2 billion project, which is scheduled for completion in 2020.
In addition to commercial real estate, foreign investment has reignited growth in the Las Vegas condo market, as well as new home starts.
Foreign investment is fueling a rebound in the Las Vegas condo market. Foreign and out-of-state buyers recently purchased 20 condos in the Sky Las Vegas, a 44-story 409-unit tower at the north end of the Las Vegas Strip, at prices ranging from $300,000 to $600,000.
Capital is being raised to fund development of a 344-unit apartment complex that will be located on 20 acres in west Henderson. The as-yet-unnamed development will consist of 23 buildings, a clubhouse, pool, a movie theater and other recreational facilities.
Also under development in the Henderson neighborhood is Henderson West, a $950 million housing project that will include 2,900 luxury condo units and feature 103 acres of housing, and retail and office space. A California investor is seeking to partner with a major international master developer for this project.
Home builders are also benefiting from the surge of foreign capital. According to Home Builders Research, Las Vegas builders reported their best January sales in over a decade, with 704 new homes sold, an increase of 35% from January 2017. Median sales prices for new Las Vegas homes increased 7% year-over-year to $352,984. In addition, there was a 45% increase in new home permits, an 11-year high in total permits issued.
Texas homebuilding giant D.R. Horton recently paid $42.5 million to acquire 200 acres in Valley Vista, a planned 600-acre community in North Las Vegas. Big land purchases by developers suggest that the residential construction market around Las Vegas will remain red hot this year as developers compete for a shrinking inventory of land parcels.
Reno is enjoying the attention of foreign investors with the rapid explosion of tech developments in the region.
A recent influx of tech companies has transformed Reno into a data center and distribution hub, bringing billions of dollars of new commercial and residential development to the area. Massive buildouts by large tech companies are capturing the headlines, but northern Nevada is also benefitting from the return of small real estate investors targeting million-dollar M&A opportunities.
Reno is also attracting foreign investment, primarily through indirect sources consisting of stateside investors with foreign ties. For example, a large portfolio of industrial properties was recently acquired by a developer partnering with GIC, Singapore's sovereign wealth fund.
Major Reno development projects underway include:
Tesla Motors Gigafactory. One of the biggest economic wins ever for the Reno area is the Tesla Motors Gigafactory. This facility, located at the Tahoe Reno Industrial Center, is expected to cost $5 billion, employ more than 6,500 workers, and manufacture 500,000 electric car battery packs per year. The Gigafactory is being built in stages. Approximately 1.9 million square feet, roughly 20% of the planned footprint, has been built so far. When completed, Tesla expects this to be the largest factory in the world.
Switch SUPERNAP data center. Phase I of the development of a $1 billion, 3 million-square-foot data center has begun. Located in the same industrial park as the Tesla factory, the Switch data center will expand coverage and accelerate data speeds for Switch customers.
Switch is also working with the University of Nevada in Reno to build an innovation center in Downtown Reno that will foster tech collaborations between students, faculty, businesses, and entrepreneurs.
Apple data center. Apple recently secured approval to double the size of its huge Reno data center. The facility expansion will cost $1 billion and is necessary to meet demand for iCloud storage.
In addition, Apple has purchased land in the Tessera District of Downtown Reno that will be the site of a new $4 million warehouse. Tessera District developers plan to develop the neighborhood as an innovation district that will house tech and research start-ups with ties to the University of Nevada.
Rackspace data center. Rackspace plans to build a $422 million, 150,000-square-foot data center in the Reno Technology Park that will serve its West Coast clients. Rackspace is a managed cloud services company with over 300,000 clients worldwide.
New Google facility. Google recently purchased over 1,200 acres of land near the Tahoe Reno Industrial Center. According to Forbes, the land may be used for a new data center and to build a test track for Google's autonomous driving business.
NASA drone partnership. Nevada is one of seven FAA approved sites for testing drone technologies. Drone companies re-locating to Reno are taking advantage of government research programs such as NUANCE, a joint venture between NASA and the University of Nevada. The NUANCE lab develops drone software and has the use of NASA's airspace simulation system. Research firm Teal Group Corp. forecasts drones growing into an $11.5 billion industry over the next decade.
In addition to data centers and other tech businesses, Reno is attracting major retailers. Online organic food retailer Thrive Market recently relocated its 325,000-square-foot distribution center to the Tahoe-Reno Industrial Center. E-commerce retailer Zulily has invested $40 million in expanding its distribution facility, and organic food manufacturer Mary's Gone Crackers is transferring its corporate headquarters, manufacturing, and R&D operations to Reno, in a move expected to cost $35 million.
The high-profile relocation of tech facilities to Reno is creating demand for office space.
Construction recently began on Reno's first speculative office project in nearly a decade. McKenzie Properties is building a 40,826-square-foot business park in South Reno, and expects to complete construction this spring. Reno's existing office inventory is being rapidly absorbed, lease rates are rising, and much of the remaining stock is 20-30 years old and in need of a facelift. Local experts estimate the remaining inventory of Class A office space still available in Reno is less than 350,000 square feet.
Many redevelopment projects are underway. S3 Development recently purchased a 39,816-square-foot office building in Reno, which it plans to redevelop as medical office space. KPS3 Marketing acquired a 15,657-square-foot Reno office building, and is in the process of remodeling the top and bottom floors. Several Reno big box stores are being converted into medical office space. Renown Health is transforming a 178,000-square-foot Lowe's store, and Saint Mary's Medical Group has converted a former Scolari's store into a medical campus.
The steady migration of workers and retirees from California to Nevada is driving housing demand in the Reno-Sparks area.
Nevada ranked third-highest in the nation for the rate of inbound moves. Permits for Reno single-family homes have climbed nearly 60% in the last two years while median home prices soared 35%, evidencing continued demand for more housing.
Median home prices hit $370,000 last February, a 12-year record, and Zillow predicts prices will rise 4.1% in 2018. Median rents for one-bedroom apartments climbed 6.2% last year to $860 according to Apartment List, and Reno vacancy rates are among the lowest in the country.
Over 100 housing new developments are planned for the Reno-Sparks-Cold Springs-Verdi region. Two of the largest are the 5,600-unit Evans Ranch near Cold Springs, and the 4,000-unit Kiley Ranch in Spanish Springs. Other large projects in the pipeline include:
StoneGate. The Reno City Council recently approved StoneGate, a 1,737-acre development project that includes 3,755 single-family homes, 1,245 condos and apartments, numerous parks and trails, a fire station, and land set aside for three public schools. Buildout is expected to take 10 years, with the first homes becoming available in 2020. The $2 billion development cost is being funded by privately-held Cambay Group investors. Homes are expected to sell in the mid-to-high $200,000s.
Daybreak. Developer Newport Pacific has paid $43 million for 980 acres in Southeast Reno, and plans to build Daybreak, a 4,700-home community. Construction is expected to begin within two years and cost $750 million.
Developers are also looking at Fallon, Fernley, Dayton and Carson City, where several new housing projects are planned.
Skyrocketing demand in American real estate markets offer prime opportunities for foreign investors—and Socotra Capital can help.
Have a development project that needs financing? Socotra Capital is a leading asset-based lender serving some of the West's most in-demand markets. Contact us today to discuss funding for your next real estate project in Los Angeles, San Francisco, San Diego, Las Vegas, Reno, and other growing markets.