When it comes to succeeding as a real estate agent or broker, it can often come down to who you know, and knowing what they know. It's imperative that you always be looking for new opportunity to rub elbows, exchange business cards, and expand your network of contacts. An excellent way to do this is to join real estate clubs, which are meetups of local real estate buyers, investors, brokers, and other assorted professionals.
We participate in a number of local real estate clubs so that we can get to know the residential and commercial real estate agents in our markets. We often get involved in real estate deals at the last second, when a purchase is about to fall out of escrow. This can be a harrowing time for an agent, and having that preexisting trust factor can be a big benefit for everyone involved.
Clubs are just as beneficial for brokers and agents, as you are much more likely to successfully close a deal with people you know personally or have previously met face to face. Mutual trust makes for a much smoother and more predictable negotiation process all around.
So, are you sold on the idea of checking out real estate clubs, but don't know where to start? Here is a rundown on just a few of the opportunities available to real estate agents in Central California, the Bay Area, and Nevada.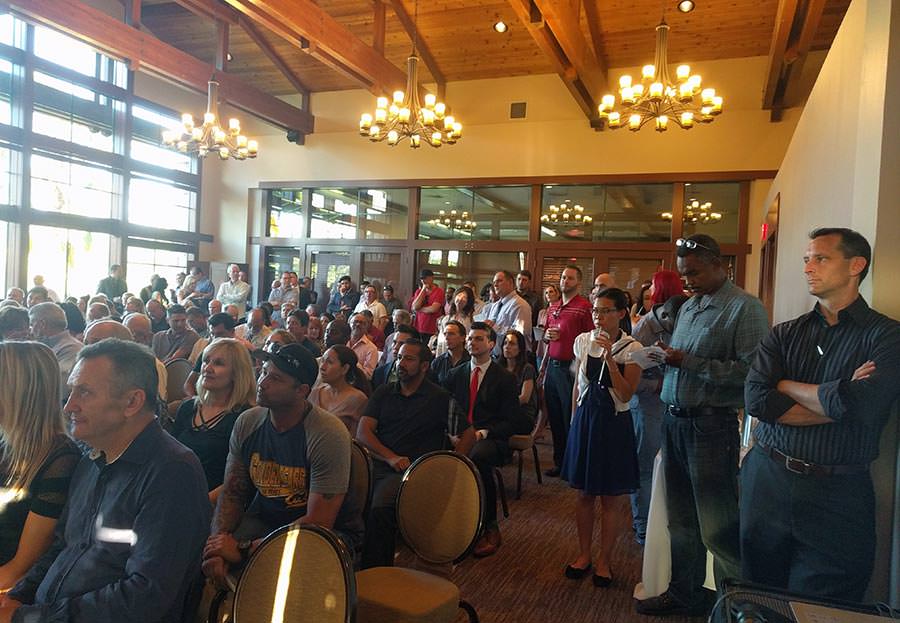 Asian Real Estate Association of America (AREAA) – SF Peninsula Chapter
Founded in 2003, AREAA is a nonprofit trade organization dedicating to providing homeownership opportunities in Asian-American communities across the country by giving support to real estate and mortgage professionals. The organization currently has more than 15,000 members throughout the United States and Canada.
The San Francisco Peninsula Chapter was founded in 2010 by Carmen Chong, and Alan Louie, a real estate broker and current vice president of the chapter, will soon be serving as its president.
Bay Area Real Estate Moguls
The Bay Area Real Estate Moguls was founded in 2011 by Bobby Sharma, a Bay Area real estate investor who specializes in fix-and-flip properties. The Real Estate Moguls Meetup group is designed for those interested in investing in either single family and multifamily residential properties. If you're looking to develop new tricks and strategies for locating and purchasing real estate properties while protecting your long-term financial interests, this is a great choice for you.
Sharma is also involved in a number of other Meetup groups, such as the San Francisco Passive Income Meetup. So, if you're looking for other a lot of other opportunities to rub elbows in the Bay Area, Bobby Sharma is a good reference.
Bay Area Private Money for Real Estate Investors Meetup
Meetup.com features an enormous number of formal and not-so-formal real estate clubs, and the Bay Area Private Money for Real Estate Investors Meetup is no exception. With about 3,000 members, this San Jose meetup group is targeted at real estate flippers and rehabbers of 1 to 4 family properties.
Organized by Thomas Braegelmann, a real estate lender, the group meets on the second Tuesday of each month, with each meeting featuring a guest speaker with valuable insight into obtaining loans, investing in rental properties, commercial cannabis properties, and much more.
Northern California Real Estate Investors Association (NorCalREIA)
Founded in 2004 by David Granzella, NorCalREIA is Sacramento's oldest real estate investor club. Granzella and the club's other organizers place an emphasis on providing its members with the education they need to make carefully considered, calculated real estate investment choices.
For those seeking to make connections with reliable and trustworthy brokers, agents, lenders, and investors, NorCalREIA is an ideal choice. As the group's description on Meetup.com states, "The capstone of success is not merely monetary, but relationships fortified by honesty, integrity, consistency and hard work."
NorCalREIA's members meet on the second Wednesday of every month at the Crown Plaza on Date Avenue in Sacramento.
Outback Real Estate Investment Network
The Outback Real Estate Investment Network is a Las Vegas meetup organized by Jon Lee and March "Coach" Collard. The group meets on the first Thursday of each month. Each meeting, with an attendance of roughly 100 people, features instructional speakers who share insight into their particular niche of real estate investment.
Real Estate Investors and Landlords of Northern Nevada
Organized by Reno area realtor Ginger Marphis, the Real Estate Investors and Landlords of Northern Nevada meetup is a destination for real estate investors, property rehabbers, realtors, property managers, appraisers, and other real estate professionals.
The group meets on the third Wednesday of each month at the offices of Keller Williams Group One, and features one or more guest speakers who lend their insight and expertise in the real estate industry. Socotra Capital will be sending a speaker to the October 18, 2017 meeting to discuss private money lending.
Roseville Real Estate Investing Meetup
The Roseville Real Estate Investing Meetup is organized by David Oldenburg, and meets once a month at the Whitney Oaks Golf Club in Rocklin. The group is designed to cater to the needs of both beginning investors and real estate professionals, and typically hosts speakers discussing the nuances of real estate investment and property flipping.
San Francisco Bay Area Real Estate Investment Association (SFBAREIA)
The goal of SFBAREIA, organized by Christy Tu, aims to bring together experienced and novice real estate investors in order to share knowledge and generate increased individual financial success. In addition to real estate investors, the group also includes property rehabbers, developers, escrow agents, real estate attorneys, and much more.
The SFBAREIA group meets once a month at the Vinyl Room in Burlingame.
San Jose Real Estate Investors Association (SJREI Association)
The SJREI Association, led by president and CEO Lori Greymont, was founded in order to "connect and educate investors in a genuine, productive way." SJREI meets on the first Thursday of each month at The Domain Hotel in Sunnyvale.
The organization hosts unique guest speakers at every meeting to educate association members, and also has an active social calendar of special events and workshops.
Sin City REIA
Organized by real estate agent and Realtor Omar Merced, the Sin City REIA meets on the third Thursday of each month, with a focus on fix and flip projects. Each meeting features speakers who discuss how to find profitable real estate deals, execute flip and flips, and make money fixing and flipping homes.
Sin City REIA encourages open discussion and sharing of ideas, so this is an ideal opportunity for Nevada area real estate professionals and investors to grow their expertise, knowledge of the Reno market, and making valuable networking connections.
Real estate agents: get out there and explore your local (and not-so-local) real estate clubs.
Don't hesitate. Get out there, mingle, and make some connections. All you have to lose is a few hours of your time, while the opportunities are endless. Remember, you have information and knowledge to offer, so you will have opportunities to teach others and garner trust. Trust is everything, and can be the difference between success and failure in the real estate market.
If you would like to learn about more opportunity to connect with property buyers, investors, and real estate professionals, contact Socotra Capital. Give us a call at 855-889-7626, or send us a message using our contact form. We would love to hear from you and find ways to help one another!