Rent rates have been rising in major metropolitan centers throughout the United States, particularly in regions where new home starts have failed to keep up with demand. This has been especially true of California. While the lack of new housing has largely been to blame for rising rents, renters have been organizing efforts to force through sweeping rent control regulations.
Since 2016, more than 15 local rent measures have been voted on in cities throughout California. Nearly half of them have passed. California rent control efforts culminated in 2018 with Proposition 10, which was intended to repeal the Costa-Hawkins Rental Housing Act. Costa-Hawkins placed restrictions on the extent to which rent control could be enforced statewide through several key provisions:
Landlords maintain the right to raise unit rents to market rates after a tenant moves out.
Cities cannot pass rent control regulations on units constructed after February 1995.
Single-family homes and condominiums are exempt from all rent control restrictions.
For cities with existing rent control measures, Costa-Hawkins froze the regulations as they existed at the time of the law's passage, barring any updates or expansions to rent control regulations. In the case of Los Angeles' Rent Stabilization Ordinance, passed in 1979, Costa-Hawkins ensures that the RSO's limitation of rent control to units built prior to October 1978 remains in place.
Voters ultimately rejected Prop 10 in 2018 by a wide margin, but this has not stopped continued efforts to pass rent control measures statewide. In early 2019, organizers began preparing to gather the signatures required to place the California Rent Control Initiative on the ballot in 2020. The initiative amounts to a partial repeal of Costa-Hawkins, allowing local governments to enact rent control laws.
Caught between organizers and property owners, Governor Gavin Newsom and the California legislature appear poised to give rent control advocates at least some of what they want with Assembly Bill 1482.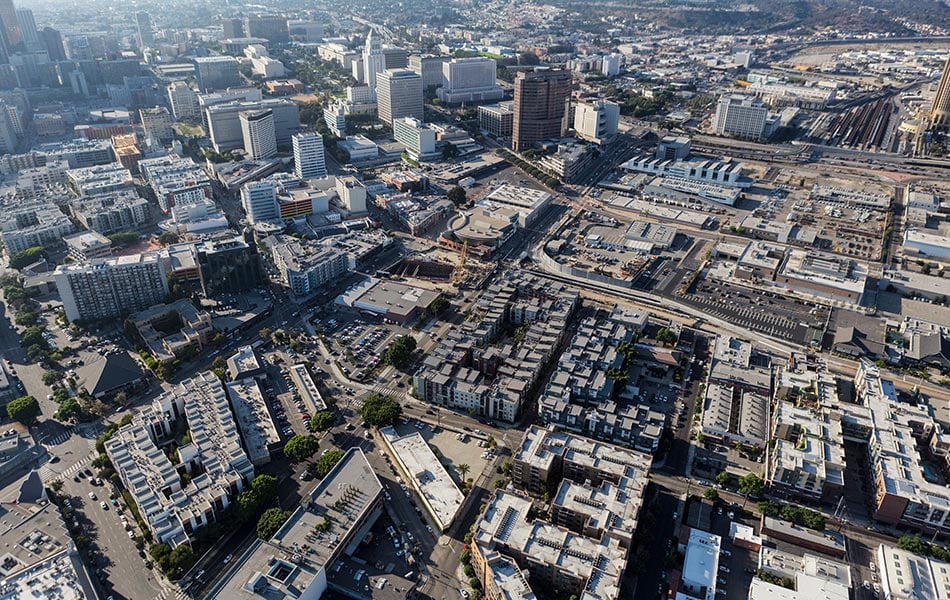 What is AB 1482, and what rent control measures will it implement?
AB 1482, also known as the Tenant Protection Act of 2019, would cap rent increases at five percent plus inflation per year, for the next ten years. Additionally, the bill includes a provision that requires landlords to provide a reason for evictions.
However, the bill includes several exemptions. Properties built within the last 10 years would not be subject to its requirements, nor would homes belonging to landlords with 10 or fewer single-family properties. Cities with existing rent control regulations, for example San Francisco, Los Angeles, and Oakland, whose local rent control regulations are stricter than what AB 1482 calls for, would also remain unaffected, with their laws superseding the new state regulations. The bill is written to sunset in 2030 (previously, the bill was designed to expire in 2023).
It's believed that AB 1482 would affect about 2 million single-family homes, but it's unclear how many of those would be exempt due to being owned by landlords with fewer than 10 rental properties.
The California Apartment Association originally stood against AB 1482, but 11th hour negotiations, coupled with an agreement between the association and the state, paused their lobbying efforts against the bill. However, the California Association of Realtors remained strongly opposed to the bill, stating that it will not provide incentives to build new rental housing, nor will it assist Californians looking for affordable rentals.
Assemblymember David Chiu, who introduced AB 1482 in February 2019, has avoided describing the bill as rent control, and instead as a "anti-rent gouging" measure. Regardless of the careful wording, the bill represents the first effort in 25 years to expand rent control across the state, and serves as another direct challenge to Costa-Hawkins.
After intense debate, AB 1482 passed through the California Assembly by a vote of 46-22 on September 11, 2019. Governor Newsom signaled his intent to sign the bill within an hour of its passage.
Even before AB 1482 was passed, individual cities were pursuing rent control ordinances, while others sought to expand regulations dating back to before Costa-Hawkins.
In August 2019, the City of Sacramento passed the Tenant Protection and Relief Act. The act caps rent increases to 10 percent a year, regardless of the rate of inflation. Rent increases themselves are limited to 6 percent, plus the Consumer Price Index (CPI). The ordinance passed the city council near unanimously, despite protests from landlords who felt that it went too far, and tenant advocates who claimed it didn't go far enough.
After multiple short-term rental units in Los Angeles were turned into hotels, protests there prompted lawmakers to pass the Home-Sharing ordinance in 2019, placing restrictions on short-term rentals. This effectively restricts the expansion of Airbnb and other services, and also limits homeowners using second homes as timeshares for short-term tenants.
Before Costa-Hawkins went into effect, multiple cities throughout the state were passing aggressive rent control measures. San Francisco passed some of the most restrictive rent control measure in the state in 1979, though the city continues to struggle with affordable rents in the wake of Costa-Hawkins' passage. The City of Berkeley also passed its own rent control policies in 1980, which remain applicable to most residential units in the city.
Though landlords and real estate investors have made inroads to try and head off bills like AB 1482, as well as local ordinances capping rent increases, it's becoming clear that calls for rent control are not going away. Even if AB 1482 had been killed in the state legislature, property investors should be cautious, as Sacramento and Los Angeles may prove to be popular models for local rent control measures.
Why rent control is a concern to real estate investors and landlords.
Real estate investors have long been sounding the alarm about the state's growing housing crisis. They have said that rent control will only exacerbate these issues as landlords race to enact rate increases and get properties on the market. In addition, investors and real estate developers may ultimately shy away from California's real estate market.
Some experts say that because rental owners will be less likely to move out of homes with capped rents, fewer rentals will go on the market. This means that already historically impacted housing supplies will only be further impacted.
Rent control can potentially lead to losses for property owners who have bought properties at high price points, and then must perform needed maintenance and upgrades without being able to raise rates to account for these costs. For rental owners whose rates are already near the current market caps, AB 1482 will not be as serious a concern. But for owners and landlords with many long-time residents who refuse to move in order to preserve their current rates, they may struggle to turn a profit.
Housing development restrictions are also contributing to investor unease.
One of the key issues that has exacerbated California's housing crisis are the strong zoning restrictions found in major cities throughout the state. Restrictions against multi-family housing development has resulted in a serious under-supply of affordable rentals, as fewer units are being developed in these supply-impacted regions.
Of California's 6 largest metropolitan areas, only Los Angeles and Riverside saw an increase in permitting for apartment construction. The average California city's zoning laws allow for apartment construction on less than 25% of land in the region, while new home construction is permitted on 50% or more.
The result is that the units that do exist in cities like Sacramento and San Francisco are increasingly expensive, yet increasingly coveted. When occupants do move out of those properties, rents rubber band up to market rates, which are increasingly out of reach for many renters.
Meanwhile, zoning restrictions mean that what few newer units are being built are forced out into less convenient and desirable locations. These would potentially not command the same rental prices as older units, while still being expensive to develop. AB 1482 potentially exacerbates these concerns, as a hard limit to annual rent increases would threaten the ability of developers to make back the money they have spent on the construction of these properties.
One recent attempt at overriding these prohibitive restrictions on development at the state level was Senate Bill 50. Written by State Senator Scott Wiener, D-San Francisco, the bill would have required Local governments to allow the construction of multi-family units and apartment buildings near major work centers and public transportation hubs.
But SB 50 was shelved in a procedural vote in the Senate Appropriations Committee until 2020. State Senator Anthony Portantino, the Democrat chair of the committee, cited concerns over gentrification and reduced public transit expansion. His stance mirrors the concerns of SB 50 opponents in La Cañada Flintridge, the region he represents in the state senate. Los Angeles, which faces its own housing crisis and has sought more comprehensive tenant protections, opposed SB 50, claiming the bill failed to address the need for affordable housing.
With the effective killing of SB 50, California has passed a state-wide rent control expansion, without addressing the restrictions to where desperately needed housing can be developed.
Rent control laws are likely going to keep cropping up across the country
Proposition 10 and AB 1482 are part of a nationwide trend of tenants and their advocates pushing for rent control. Oregon was the first state to pass a statewide rent control law, and it has emboldened other rent control advocates around the country. These efforts have not been limited to the West Coast.
New York City is proving to be one of the most heated battlegrounds between tenant and landlord advocacy groups. In June 2019, "the strongest tenant protections in history" managed to break through a state senate deadlock, despite increasingly vocal and organized efforts by landlords and investors to defeat any such legislation. Builders and real estate owners have started looking to markets out of state as they face reduced profits, repeating a story that has been seen in other parts of the country. In California, some landlords saw Proposition 10 as a sign to get out of the market entirely and reinvest elsewhere. AB 1482 may potentially cause another rush of landowners and developers seeking to divest themselves of rent controlled properties.
The real estate industry has opposed rent control for decades, and there are studies that show these measures harm the people they are intended to help. But aggressive counter-lobbying and evidence-based arguments have not appeared to blunt public enthusiasm for these laws.
Rent control does impact cash flow for real estate investors, but it is still possible to turn a profit under these policies
Rent control is already a major concern for real estate investors throughout California. Even with AB 1482 reaching the governor's desk, it is important to remember that rent control is not about preventing landlords or property owners from turning a profit. What it does mean is that investors will need to be smarter about where they are going to invest, and understand the risks of the markets they are entering.
Landlords and property owners may be looking to 'get out' of unfriendly markets, but with public enthusiasm for rent control continuing to grow, even the friendly markets they intend to escape to may quickly shift against them. Meanwhile, patient investors with foresight may be able to snatch up rent-controlled properties at fire-sale prices.
In addition, the cost of maintaining or improving these properties may not be as prohibitive as they seem to be up front. Certain regions allow property owners to apply for hardship increases, allowing them to raise rents to enable maintenance, repairs, and infrastructure improvements. Landlords in San Francisco can file for utilities, maintenance, and operations passthroughs through the Rent Board, allowing them to increase rent to make up for these costs. Los Angeles offers the Capital Improvement Program to help landlords and property owners pass on the costs of major maintenance and improvements to their tenants.
It is also important to note that under rent control, tenants will be more likely to stay in place, resulting in reduced turnover and financial losses due to vacancies. Even though rent increases will be limited, long-time renters can still represent steady income for a landlord or property owner, especially if the units are in good condition.
Rent control will change how landlords and property owners will profit from their tenants, but will not prevent it entirely. So long as investors take advantage of all the tools available to reduce their own costs, they can provide affordable housing and still enjoy a consistent cash flow.