Every realtor will tell you that great kitchens and bathrooms sell houses. However, rehabbers must resist the temptation to over-improve these spaces since this can quickly turn a once promising profit opportunity into a bottomless money pit. Here are our tips for effectively managing the costs of kitchen and bathroom remodels: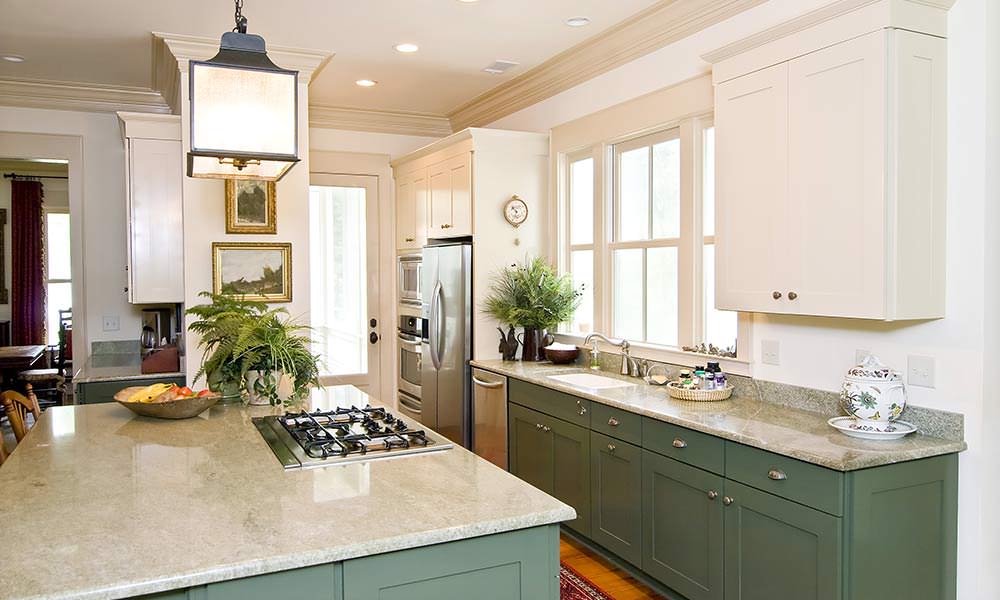 Bathroom Remodeling Tips
The easiest way to cut bathroom remodeling costs is to not change the plumbing footprint. Keep the toilet, sink and tub/ shower where they are, simply replacing old fixtures with new. Relocating plumbing and/or electric outlets are major endeavors that can cost thousands of dollars.
Avoid overdoing the decorative flourishes. Prospective home buyers might not share your aesthetic vision. Realtors recommend sticking with classic styles and neutral colors for bathrooms. A better use of remodeling dollars is to invest in upgraded bathroom fixtures. Low-end faucets and shower heads that show wear quickly and look shoddy need to be replaced.
Small design touches are impactful and make the best use of your remodeling dollars. Instead of expensive mosaic tile on every bathroom wall, create a feature wall or a border of decorative cap tiles. Use standard ceramic or porcelain tiles for the majority of the work, adding a line of luxury tile as accents Ceramic tile is not only more affordable than marble or granite, but also much easier to install.
Upgrading a single key element such as the vanity creates a sense of elegance while also allowing potential home buyers to envision their own embellishments. When purchasing vanities, rehabbers can often save 20% or more by finding the vanity they want at a local store and purchasing that same product online. A simple designer trick for making small bathrooms appear larger is to downgrade the size of the existing vanity.
Adding a few high-end features such as a heated towel bar or a non-slip shower floor can make your property stand out from others without busting the remodeling budget.
If you are tiling the shower and/or tub area in a bathroom with a high ceiling, don't tile all the way to the top of the ceiling. Instead, paint areas near the ceiling with a water-proof, mildew-resistant paint.
A shower curtain costs a fraction of the amount of a glass shower door. You can add a hint of style to the shower area by installing a high-quality curved shower rod in a finish that matches the new bathroom fixtures.
Kitchen Remodeling Tips
Renovating kitchens can be extremely expensive so rehabbers should have a detailed plan in mind for managing kitchen renovation costs. The average kitchen remodeling can cost anywhere from $20,000 to $50,000, depending on the scope of the overhaul. Here are tips for managing kitchen remodeling costs:
First and foremost, do not move plumbing. It can cost as much as $2,000 to relocate a kitchen sink.
Materials account for approximately 75% of kitchen remodeling costs. The most expensive item is kitchen cabinets, which typically account for one-third of the materials budget, followed by countertops and appliances.
If the existing cabinets are in decent shape, consider painting or refinishing them rather than replacing them. Another option for updating cabinets is installing replacement doors or purchasing a ready-to-assemble cabinet kit. These products are available on-line from suppliers such as Ikea.
Costs for granite countertops are greatly reduced by purchasing remnants left over from a previous remodel rather than selecting from a full slab. Most warehouses offer leftover granite or quartz pieces at discounted prices and many of these pieces are large enough for a counter top or kitchen island.
An eye-catching and functional kitchen backsplash can be created at an affordable price by installing fancier tile in the area behind the sink and ending this tile where the walls meet. A less expensive tile can be used on the other walls.
If you are upgrading the kitchen appliances, there are many ways to avoid paying full price. Most appliance dealers hold inventory liquidation sales when the new models arrive in September and October, making this a great time to buy. Big box retailers offer their best deals for the year on Black Friday (the day after Thanksgiving).
You can save as much as 10% to 20% on appliances by purchasing slightly imperfect floor models. Look for stoves, refrigerators and other appliances whose small dings or scratches won't be visible after the appliance is installed. Another way to reduce costs is to skip the extended warranties, which most home owners don't use anyway. Shop Craigslist for gently-used appliances or visit your local Habitat for Humanity ReStore. Habitat ReStores accept donations of new and slightly-used appliances, lighting fixtures, furniture and other items from builders and contractors and re-sell these to the public. Each ReStore is independently operated, so store size and merchandise selection varies by location. For smaller items, good deals can sometimes be found on Green Demolitions, an online non-profit super store that re-sells used luxury kitchen and bathroom fixtures. The store is located on the East Coast but ships nationwide.
If you are shopping at an appliance store, haggling on price can be surprisingly effective. A Consumer Reports survey found that 75% of shoppers who asked for a discount received one. The average discount negotiated was $100. You can also save money when purchasing new appliances by skipping unnecessary extras such as digital displays. You can't go wrong by choosing products with a stainless steel finish. According to a recent Houzz survey, 75% of home buyers preferred stainless steel over other finishes.
Kitchen upgrades should give first priority to modifications that reduce homeowners' utility bills such as energy-efficient appliances, celling fans and double-paned windows. Energy-savings improvements are very appealing to most home buyers and become selling points that differentiate your property.